As the leaves begin to change and the weather cools down, there's no better time to take your RV out for a weekend getaway or even an extended trip taking in all of the beauty the autumn season can offer.  Here are 10 of the best RV destinations for fall:
The Berkshires, Massachusetts
With sweeping views of the foliage, the Berkshires is a must-see destination in the fall. There are plenty of hiking and biking trails to explore, and don't forget to check out the Norman Rockwell Museum while in town.
White Mountain National Forest, New Hampshire 
Home to the tallest mountain in the Northeast, White Mountain National Forest is a popular spot for leaf peepers. There are plenty of camping spots available, or you can stay at one of the many lodges in the area if you want to get out of your RV.
Crater Lake National Park, Oregon 
As Oregon's only national park, Crater Lake is a must-visit any season. In the fall, you can see the changing leaves reflected in the still waters of Crater Lake. Additionally, several hiking trails wind through old-growth forests - perfect for connecting with nature and taking in breathtaking fall foliage.
The Great Smoky Mountains National Park, Tennessee
Straddling the border between Tennessee and North Carolina, Great Smoky Mountains National Park is one of the most visited parks in the country. In addition to stunning views of the colorful leaves, there are also historic sites like Cades Cove where you can learn about early American life. Many autumn road warriors rave about the trip between Gatlinburg to Gettysburg and call it "Fall's Most Colorful Route."
Acadia National Park, Maine
Located on Maine's coast, Acadia National Park is known for its dramatic cliffs and rocky shores. While you're there, hike up Cadillac Mountain for unbeatable views of the surrounding area - beautiful in any season, especially in autumn.
Boone, North Carolina
A small town nestled in the Blue Ridge Mountains, Boone is a popular destination for outdoor enthusiasts. In addition to scenic hikes and drives through winding roads lined with colorful trees, you can also check out some local breweries or go apple-picking at one of the many local farms.
Rocky Mountain National Park, Colorado
One of America's classic national parks, Rocky Mountain National Park is a great place to explore any season. In fall, Elk Meadows fills with elk as they prepare for winter, while tundra tours give you an up-close look at alpine wildlife like bighorn sheep and pikas.
Hocking Hills, Ohio
Hocking Hills State Park is located in southeastern Ohio and is known for its sandstone cliffs and hemlock forests. The area boasts over 25 miles of hiking trails, caves, and waterfalls worth exploring, significantly as the leaves change in late September and October.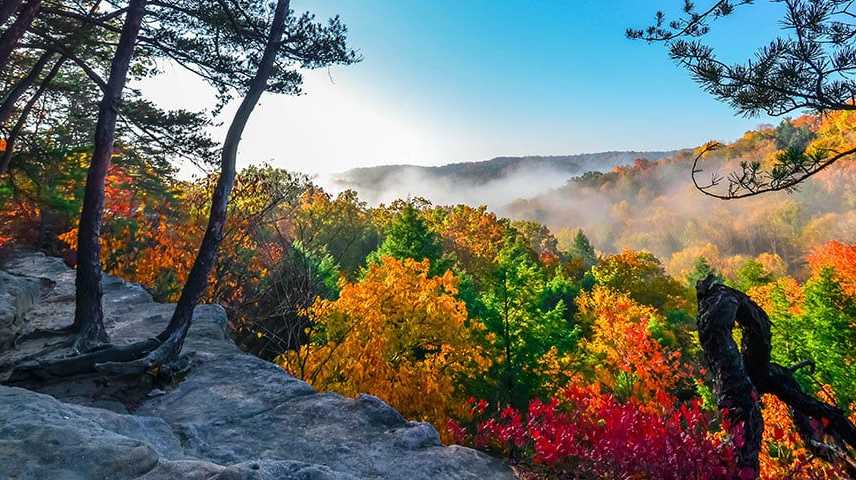 Cascade Lakes Scenic Byway, Oregon
This picturesque byway winds through central Oregon and offers breathtaking views of Mt Bachelor and several other Cascade Range volcanoes. Along the way, you'll also pass by several crystal-clear alpine lakes - perfect for taking a dip on a cool autumn day.
Shenandoah National Park, Virginia
Last but not least on our list is Shenandoah National Park, located just an hour from Washington, D.C. In addition to stunning vistas, Shenandoah offers over 500 miles of trails perfect for hiking, biking, or horseback riding. While you're there, keep your eyes peeled for wildlife like deer, bears, and even elk.     
Autumn is a beautiful time to explore America's most breathtaking destinations. The colorful leaves create an ever-changing landscape as you drive, hike, or bike through the trails and byways. Whether you're looking for a quiet place to relax in nature or an adventure-filled weekend away from home, one of these destinations is perfect for you this fall.
Contact us for more information about RV boondocking in the great outdoors!